Determination of biomechanical parameters of the human eye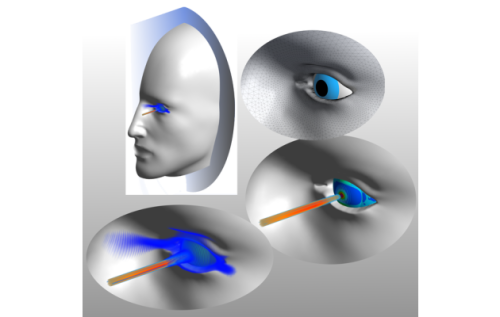 Cooperations with:
Dr.-Ing. Mike Röllig (Fraunhofer-Institut für Keramische Technologien und Systeme IKTS),
Prof. Dr. rer. nat. habil. E. Spörl (Augenklinik, Universitätsklinikum Carl Gustav Carus an der Technischen Universität Dresden)

Abstract:
In this research project, methods for the identification of biomechanical parameters of the human eye are to be derived based on numerical calculations. These parameters are of paramount importance in ophthalmology where they reflect pathological processes due to biochemical changes in the tissue structure.
By developing a reliable method for estimating the unknown biomechanical parameters, it is possible to diagnose various eye diseases at an early stage. This is substantial to avoid eye surgery in many cases, as most today's non-surgical treatment procedures only interrupt the progression of the disease and maintain its actual state. Furthermore, because the biomechanics of the eye tissue influences its imaging properties and thus its visual acuity, targeted changes in the biomechanics are usually conducted using techniques such as LASIK to adjust the imaging properties and, consequently, correct the refraction error. Nevertheless, through a successful identification of the patient-specific biomehcanical properties of the eye, more efficient and reliable adjustment and correction procedures can be achieved. Moreover, by a regular estimation of the biomechanical parameters the healing process can be followed and monitored.
This work focuses on the numerical simulation of the system response of the human eye during appropriate medical testing methods. In the first step, different influential biomechanical factors are identified and evaluated through significance analyses. Subsequently, by using these factors, a mathematical model describing the eye behavior is derived. This model will be used in the future in the identification process of the biomechanical properties using inverse analysis methods.
The tasks defined in this project require a realistic definition of external loads as well as a detailed geometric description of the human eye and its boundary conditions. Additionally, they require the derivation of appropriate material models of the individual eye components.