Hydropuls testing machine tension/compression-torsion POS 160 KN (Schenk-Trebel) conversion Doli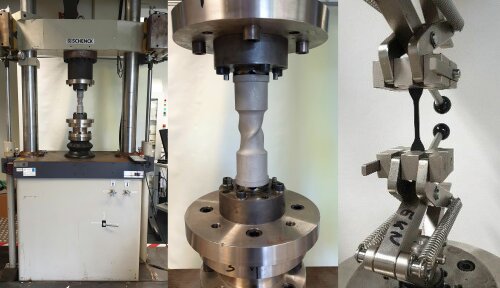 Application: Material tests and tests on structural components (static and dynamic), especially
equipped for fatigue tests for compression, tension, bending and torsion loads. Servo-hydraulic vibration testing machine with torsion unit for static and dynamic tests. The Two Pillars Tension-Torsion testing machine is suitable for tests with a compression and tension load of up to 160 kN incl. a torsion moment of 1kNm at +- 50°. Doli's computer-controlled digital control electronics allow test sequences for all types of static and dynamic loading using a wide range of load functions, frequencies and deformations, as well as test control, measurement and monitoring.
Characteristics Hydr. testing machine:
Tensile- compressive force 160 KN;
Travel +- 50 mm
Test frequency 0-100 Hz
Angle of rotation +- 50 mm
Torque 1 kNm
Test speed 0-15 m/s
The test frame is designed for up to 400 KN.