Modeling of Aleatoric and Epistemic Uncertainties in the Simulation of Multiphase Steel Structures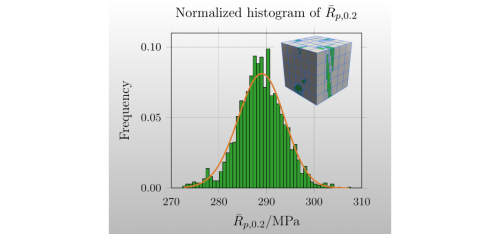 DFG (Deutsche Forschungsgemeinschaft) project BA2823/12-1 and BA2823/12-2 within the Priority Program SPP1886 "Polymorphic uncertainty modelling for the numerical design of structures"
Abstract:
In this project we aim to develop methods for the computational analysis of multiphase steel structures taking into account aleatoric and epistemic uncertainties, which are associated with the material's microstructure and mechanical properties. The main goal is to predict the probability of failure (PoF) of an engineering structure in a certified sense by numerically identifying optimal bounds on the PoF, which take into account incomplete or imprecise statistical data. The approach is based on minimizing/maximizing a finite-dimensional parameterization of the PoF in terms of Dirac masses to obtain the sharpest bounds possible. The available statistical data associated with macroscopic material properties enter the optimization problem as constraints. This statistical data will be partially obtained by numerical calculations performed at the microscale and homogenization of the microscopic response. Therein, incomplete data regarding the microstructure is incorporated in terms of bounds on statistical descriptors of higher order that describe the microstructure morphology. For this purpose, statistically similar representative volume elements are considered allowing for an efficient representation of the real microstructure and enabling access to targeted variations of microstructure morphology, which may not necessarily follow explicit probability distributions.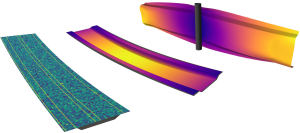 In the second project phase, the extended optimal uncertainty quantification (OUQ) framework developed in the first phase was integrated within a reliability-based design optimization. The optimization target therein is a performance measure of an engineering structure, with can be optimized based on design parameters, whilst a predefined upper threshold on the probability of failure must not be exceeded. Since both the computation of the performance measure as well as the upper bound on the probability of failure are influenced by polymorphic uncertainties, the extended OUQ framework is applied in both cases. Additionally, the extended OUQ framework was combined with fuzzy numbers, which are known from the literature. An important aspect of the project is the incorporation of random fields to model spatially varying material properties, which again introduce another source of uncertainties. The application of the developed optimization method is the maximization of the dissipated energy of a car front bumper in a crash scenario by optimizing the positions of laser-hardened traces within the front bumper.