EXASTEEL - Bridging Scales for Multiphase Steels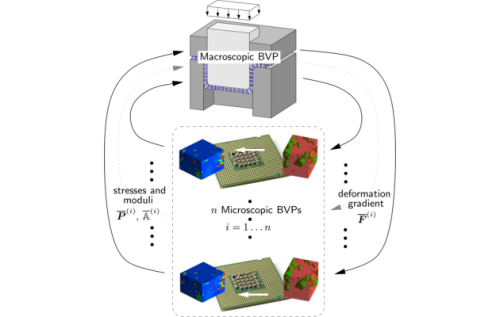 DFG (Deutsche Forschungsgemeinschaft) project BA 2823/8-1 within the SPP (German Priority Program) 1648 "SPPEXA" (Software for Exascale Computing)
Cooperation with:

A. Klawonn (Universität zu Köln),
O. Rheinbach (Technische Universität Bergakademie Freiberg),
J. Schröder (Universität Duisburg-Essen),
G. Wellein (Friedrich-Alexander-Universität Erlangen-Nürnberg)

Abstract:
The project EXASTEEL in the SPP 1648 deals with the computational simulation of advanced high strength steels, incorporating phase transformation phenomena at the microscale using the FE² direct multiscale approach. Thereby in each macroscopic integration point an additional (microscopic) boundary value problem is solved and suitable volume averages of the microscopic responses replace the macroscopic constitutive set of equations compared to classical FEM computations. In a serial set-up this procedure results in high numerical costs especially in the three dimensional case. New, highly efficient, parallel solver algorithms will enable the FE² approach to perform simulations of three dimensional multiscale material science problems. Due to the main objectives of SPPEXA, here the development for the exascale computing on future supercomputers is one of the main aspects.